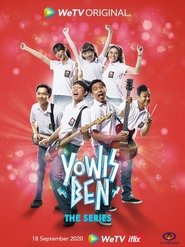 Yowis Ben: The Series (2020)
Sinopsis Yowis Ben The Series:
Berlatar sebelum band mereka terbentuk, dan sebelum Susan masuk ke SMA Bayu, Bayu dan Doni adalah teman dekat yang tinggal di Malang. Mereka merasa hidup tidak beruntung dan tanpa harapan, apalagi jika membandingkan diri dengan Nando. Bayu dan Doni, atas saran Cak Jon, berusaha mengubah hidup mereka, sembari juga bertemu dan berteman dengan Yayan.
Views: 134
Actors: Aliyah Faizah, Anggika Bolsterli, Arief Didu, Bayu Skak, Brandon Salim, Cak Kartolo, Cak Wito, Devina Aureel, Glenca Chysara, Joshua Suherman, Putri Ayudya, Richard Oh, Tri Yudiman, Tutus Thomson
Studio: Starvision Plus